Bonuses are surefire way of catching the eye of prospective players seeking a reliable online casino partner. The Winner Casino Loyalty Bonus is the ultimate way of showing gratitude for choosing their games and services. It is just one of the many financial incentives the casino provides to its members, but still a great way to motivate them. Just as the name suggests, this bonus is not offered up front to the first players who sign up for an account. It will require patience and commitment to make the most of it.

The ultimate goal is to gain access to the Winner Casino Loyalty Club, where this bonus and many more similar to it are available. The sports betting and casino offers will provide players with the means to chase and fulfill their dreams. On the off chance that they don't succeed at the first attempt, they will at least have a chance to recuperate some of the money lost. That's because the same comp points earned on a daily basis can eventually be converted into cash.
The introduction of Winner Casino loyalty points made the program more exciting, since they can be used across all types of gambling. Sports betting, casino games, video pokers and scratch cards alike are suitable for the purpose of earning points. They are earned at a different ratio, with casino and sports bets generating different amounts. There are a total of seven different point levels and each time players move up, they accumulate further bonuses, making the voyage just as exciting as the destination.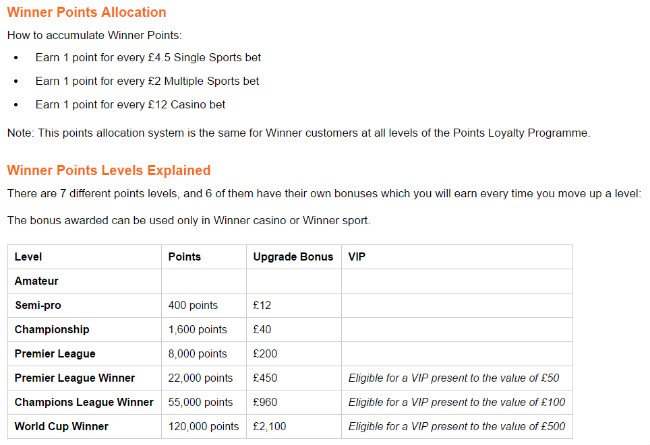 One can Winner Casino redeem loyalty points well before attaining VIP status, but things change for the better with each step forward. Players begin at Amateur level, move on to Semipro and Championship, before reaching Premier League and Premier League Winner. Once they reach this stage, they become eligible for a VIP present and these bonuses get better once they reach Champions League Winner and World Cup Winner. The comp points are awarded via the Winner Points dashboard in a simple way.